I know this has been discussed before but online obsession is clearly not going to go away. I was just reading about a guy in the US who says that he is only
'self-medicating'
and used the internet to control his psychological problems related to post-traumatic stress disorder.
He says that his psychological problems have left him addicted to sex, especially adult internet chat rooms.
There seems to be plenty of sites out there to help...seems odd, bit like going to the pub to cure your alcoholism. one site
HERE.
However, worth a self test to see; and one such test
HERE
.
Some people also spend too much time reading, watching television, and working, and ignore family, friendships, and social activities. But do we have TV addiction disorder, book addiction, and work addiction being suggested as legitimate mental disorders in the same category as schizophrenia and depression?
That quote from John M. Grohol, Psy.D. "Internet Addiction Guide" on
Psych Central
. An interesting article first published 8 years ago with subsequent updates. Answers to such questions as 'Do You Spend Too Much Time Online?' and 'What Makes the Internet So Addictive?' Well worth a read...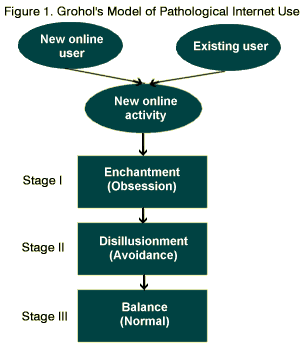 I do not think there is any other quality so essential to success of any kind as the quality of perseverance. It overcomes almost everything, even nature.
John D. Rockefeller

--------------------------------------------------------------------------------- Update 2220 p.m. I answered the questions in the linked test and got a score of 59: "You are experiencing occasional or frequent problems because of the Internet. You should consider their full impact on your life." ...but I have considered it, I have!