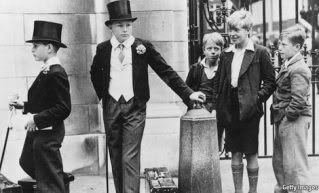 Another post, another 'iconic' picture. A report of which can be found in INTELLIGENT LIFE Magazine (The Economist).
Click on image
for Ian Jack's brilliant and full article: Five Boys: The Story of a Picture. Indeed, the story of a photo that for 70 years "
has been used to tell the same story – of inequality, class division, 'toffs and toughs'
". All the questions: what were the circumstances; where was it; when was it; who were they; why were they there; how did they get on in later life? All there, all answered in full. An article that is well worth more than a few minutes of your time.
I was led here by Vulture (1st comment) on Fraser Nelson's Spectator piece on "
Why we shouldn't confuse poverty with inequality
" [
Link
], (also worth a read, as are the comments!).
Picture credit: Peter Wagner, Thomas 'Tim' Dyson, George Salmon, Jack Catlin and George Young, outside Lord's, 1937; Jimmy Sime/Getty