---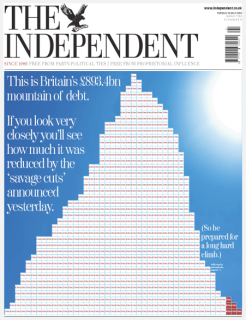 The Independent's
front page demonstrates nicely the size of the problem facing the UK. In fact they underestimate a bit as the debt 'all-in' is estimated between one and three
trillion
. The cuts announced yesterday are the little bit shaded red in the corner.
"A savage start? Maybe, but this is just the very beginning
." Click to enlarge. As Hamish McRae of The Independent puts it, rather well:

"In a way, the cuts we have just heard about are the easy bit of the story. The tough choices are ahead."


Hat-tip
Conservative Home
.