---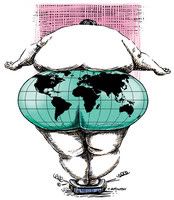 I was interested to read that there has been a marked drop in the number of the bastards most probably responsible for more human deaths than any other single cause:
the mosquito
. However that is off topic but I do suspect there may be an inverse correlation between your chances of suffering death by mosquito and your chance of being affected by another epidemic:
globesity.
Obesity
is one of the
"most blatantly visible, yet most neglected, public health problems
"; the Lancet has released
a series
about the global pandemic covering the challenge of obesity and what needs to change, the economic and health burdens, 'reversing the tide' and 'where next'. However I think most of it has already been said a couple of years ago; not by
Owsblog
- although I did suggest certain '
action this day
' - but by Sander L. Gilman,
Fat Chance
(click on image). And despite all that Sander says, I suspect with the way we are heading, the globesity pandemic - such as it is - will soon start to subside.