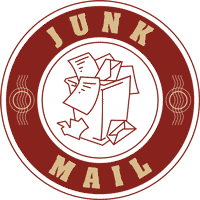 THIS

story of a UK postman who is facing dismissal because he advised people how to stop the ubiquitous and ever-growing masses of junk mail being delivered to their home; he has been suspended for misconduct.
The overloading I mention is of course your front door but also poor postman's back
!
The postie, Roger Annies, "composed and circulated a leaflet about the Royal Mail's opt-out clause for unsolicited mail"…seems he was only trying to help his 'customers'.
I must say I agree with many of the comments that follow the BBC article, here's one that I concur with as it is something I have suggested myself in the past:
99% of people are going to support this postie, junk mail is a pain and is largely unwelcome. I'm glad he did it, as this news story has effectively told me how to opt out of receiving some of this junk. Personally I would like to see the Royal Mail be allowed to increase the price of a 1st class stamp by 10p to increase their profitability, as I think even at 40p a pop the 1st class letter service would be an absolute bargain, and perhaps then they wouldn't need to distibute colossal amounts of (what ends up as) waste paper. Dave, Yeovil, Somerset

What we call junk mail is officially termed 'direct marketing' and the 'door-to-door' contracts are a profitable service and more importantly an essential income to the
Royal Mail
.


"We make money through direct mail by senders paying for their addressed mail to be delivered, or through having a contract with senders who post unaddressed mail, such as local government information or local takeaways."
You may not realize it, but a company you have done business with may (???) have sold or shared your personal information to other companies involved in direct marketing. The
Direct Marketing Association
is essentially a good thing: they say "every organisation engaged in direct marketing needs the DMA to exist. Without it, there is no one to defend direct marketing from unethical or unprofessional practitioners, who can bring direct marketing into ill repute, trigger restrictive legislation and create consumer mistrust."


The mission of the DMA is to maximise value for members whilst maintaining and enhancing consumers' trust and confidence in direct marketing.

They can't be all bad because they offer the consumer information on opting out of being on these marketing lists:

HERE

, or use the Mail Preference Service to choose the mail you need/want,
HERE
:

Otherwise, to stop junk mail you can link to junk mail.org (click on the image) or contact:


Opt-Outs, Royal Mail, Kingsmead House, Oxpens Road, Oxford, OX1 1RX(for unaddressed mail) and for addressed mail Mail Preference Service(MPS), Freepost 29, LON 20771, London, W1E 0ZT or call 0845 703 4599
That unethical practitioner may not only be from the UK and there are problems with Mailings from Overseas e.g. promoting lotteries or 'get rich quick schemes' that are often misleading and fraudulent. The Mail Preference service advice is not to reply (and to put it straight in your recycling bin) The Office of Fair Trading is working on dealing with this; you can send any copies
you receive (including the envelope) to:


European Enforcement Team at the Office of Fair Trading at Fleetbank House, 2-6 Salisbury Square, London EC4Y 8IJ.

Also:
Postwatch
is an independent organisation, not attached to the Royal Mail Group or part of the Government. Postwatch was set up to ensure that post offices, Parcelforce, Royal Mail and any competing postal providers, give the best service possible to you, their customer.



"Post offices are visited by twenty eight million people at least once every week. On average, we send 100 letters and receive over five times that amount from friends and businesses each year. Just about everyone of every age and every background uses the post in some way and they need an effective consumer body to make sure their views are heard. This is why Postwatch was set up."
Please don't get me wrong, I'm 100% in favour of the service our Postmen give us (well OK, give YOU!!...) and I am also in favour of keeping open the UK's network of
Post Offices
- long may they continue!