"I have sinned against my brother the ass."...he didn't like his brother? ;-)
Today, October 4th, is
World Animal Day
and it is celebrated each year on this day; today all animal life is celebrated. The date was originally chosen for World Animal Day because it is the feast day of the man born as Giovanni Francesco Bernardone, now known as
Saint Francis of Assisi
, known to be a nature lover and is patron saint of animals and the environment. MISSION STATEMENT - WORLD ANIMAL DAY:
To celebrate animal life in all its forms
To celebrate humankind's relationship with the animal kingdom
To acknowledge the diverse roles that animals play in our lives: being our companions, supporting and helping us; bringing a sense of wonder into our lives
To acknowledge and be thankful for the way in which animals enrich our lives

The quote that started this post was apparently his dying words: "legend has it that St. Francis on his deathbed thanked his donkey for carrying and helping him throughout his life, and his donkey wept." Clearly, after all those years, he thought that to sit astride an Assisi ass is a sin, hehehe. The photo is from the website of The Donkey Sanctuary, Sidmouth, UK (click on image)
Orbit observance...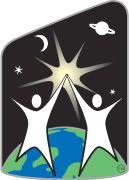 Today is also the beginning of World Space Week the start and end dates of which are the anniversary of the launch of the first human-made Earth satellite, Sputnik 1, on October 4th 1957 - the success of which prompted the USA to pay more attention and so began the Space Race - and the signing of the Outer Space Treaty by USA, USSR and UK on October 10th 1967. What this did/does is preempt Star Wars :
"The Outer Space Treaty represents the basic legal framework of international space law and, among its principles, it bars States Parties to the Treaty from placing nuclear weapons or any other weapons of mass destruction in orbit of Earth, installing them on the Moon or any other celestial body, or to otherwise station them in outer space. It exclusively limits the use of the Moon and other celestial bodies to peaceful purposes and expressly prohibits their use for testing weapons of any kind, conducting military manoeuvers, or establishing military bases, installations, and fortifications (Art.IV). Moreover, it explicitly forbids any government from claiming a celestial resource such as the Moon or a planet. Art. II of the Treaty states, in fact, that "[o]uter space, including the moon and other celestial bodies, is not subject to national appropriation by claim of sovereignty, by means of use or occupation, or by any other means."