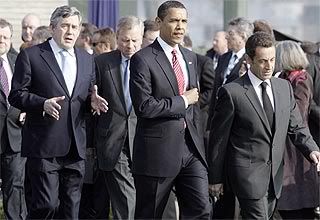 Update, 9pm BST: "
Analysis: Obama's trip: Big cheers, some results
"(Jennifer Loven, Associated Press) [
Link
] Fair enough; Obama still has to outline the nuclear question thereby making good a campaign promise to rid the world of nuclear weapons, this will be when he gets to Prague. By the way, I'm only doing this update because I love the picture from
El Periodico
with Gordon Brown...I know he's not, but he does APPEAR to be pleading for Obama not to leave him!
(image left, photo credit: AP / MICHEL EULER)
-------------------------------------------------------------------------------------------------
No, not Carla! Although you couldn't blame him! Obama seems to be having a very successful tour reaching at least concensus on what one assumes are all his objectives: agreement of funding in London - albiet mostly recycled; agreement and a new US- France
entente cordiale:
"Thanks to the great leadership of President Sarkozy, courageous on so many fronts, it's hard to keep up,"
Not what I've heard! Carla looks very happy...and gorgeous! (that's my excuse to post an image!)
"The energy that he has brought to foreign affairs is something that I think we've all benefited from."
Obama said - pleasing
double entendre
enthusiasts everywhere [
Link
]; but I jest and I digress: agreement in NATO, more Euro troops to Afghanistan; agreement with what appeared to be a very buddy-buddy relationship with Dmitry Medvedev, Russian president, when they met face-to-face for the first time in London at the G20, "both agreed on fast-track negotiations to slash their nuclear stockpiles by about a third from the end of this year" [
Guardian
] (between them they have 96% of the world's nuclear arsenal) "Barack Obama's new offensive against nuclear weapons"..."Radical drive among series of measures to improve security" [Radical? You can't say that in the same sentence as Obama or people may recall his past, Acorn etc.] Anyway, these objectives dovetail nicely with NATO. Today John Tanner, President of the NATO Parliamentary Assembly, raised "
three key points
that we NATO parliamentarians believe are critical to our Alliance; the mission in Afghanistan, our relationship with Russia, and the need for a new Strategic Concept." The third meaning encorporation of assorted NATO actions re piracy, cyber defence etc. He went on to say, regarding NATO/Russian interests, that despite the fact that they do not always coincide...
"...there are important areas where they do. We must build a relationship to address our common strategic interests."
No doubt one of those 'common strategic interests' would be their own nuclear disarmament and the "unclear" problem from the
obstreperous outsiders
.