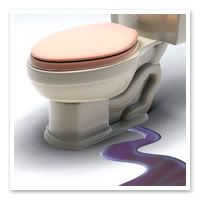 Ripples...A Downing Street spokesman said: "
The prime minister has accepted Mr McBride's resignation
" and "'
Brilliant': the lurid lies of sex and drugs
", Isabel Oakeshott, Deputy Political Editor with at least two articles in tomorrow's Times
HERE
and
HERE
. Or link through image for Sunday's News of The World full coverage.
Ian Dale has
much more
(hat-tipping Guido)
Update Sunday 12/04 11:35 CEST
: Gaby Hinsliff, political editor of the Observer
today on blogging
and the "
British blogosphere taking their first big political scalp
" - not sure that's the first, is it? - but ends on a great quote from Alex Hilton a leftwing blogger (labourhome.org and
Recess Monkey
) and what Gaby calls "perhaps the left's nearest equivalent to Guido Fawkes"; speaking of Labour's need for more firepower online,
"It's good that they now understand there is something that needs to be understood. But bad that they don't understand what it is."
Classic, but worth noting that whilst Hilton IS a leftie blogger, Guido ISN'T a "right-wing blogger", he has laid into the Conservatives on many occasions ( Spelman, Conway - and others with their snouts in the trough) with the same gusto, it just appears that Labour have more to offer, as a target that is!