---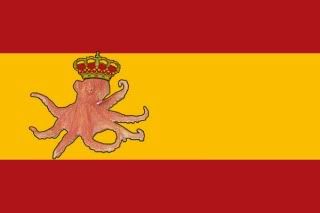 Spanish PM José Luis Rodríguez Zapatero has shown concern about Pulpo Paul: "
I am concerned about the octopus...I'm thinking whether to send a protection squad
", he said yeasterday, after the defeat of the German team on Wednesday. The PM is not alone: the Minister of Environment, Rural and Marine Affairs, Elena Espinosa has said she will - at the Council of Ministers of the European Union meeting - request a fishing moratorium to help defend Paul so the Germans don't eat him (the Argentines had used this threat after they lost in the quarter final)! Also yesterday, Industry Minister Miguel Sebastian advocated Paul's immediate transfer to Spain to be able to ensure his protection.
Wonderful stuff
. Regarding the predicted result for the World Cup final: cephalopod celebrity pulpo Paul has opted for Spain! Links: in Spanish:
El Mundo
; in English:
Daily Telegraph
.
A bit of fun: a friend just passed me an image of the named shirt of a new Dutch player (I hope the Spanish aren't getting too cocky!):
Van Aperdeer
(
van a perder
, "going to lose"...hehehe). I'm just pleased that - whoever wins - there will be a new name on the World Cup and will make a
new total of eight countries
that have won it.
And another bad omen for the Dutch: as Paul (no, not that one!) writes
HERE
. English ref Howard Webb and his team will officiate at the final and the bad omen is that "
...the last time and Englishman got the big gig was Jack Taylor back in 1974 and we all remember what happened then.
"