---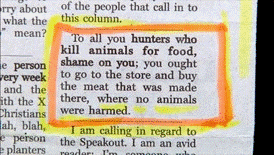 Following on from the juicy fruit and veg I posted yesterday, I received this (image, left) last night; it could be one of those e-mail hoaxes but apparently it was in a San Francisco newspaper. The accompanying message I received was thought-provoking:
"Folks, just remember as you read this, this person probably drives and votes. AND, may have already reproduced..."
Appropriate that today is the Farm Animal Rights Movement's (
FARM
) World Farm Animals Day. The date was chosen as it is the International Day of Non-Violence
observed today
because 2nd October is the birth date of Mohandas Gandhi. Whatever, do you know
what I like
to get stuck into..?