---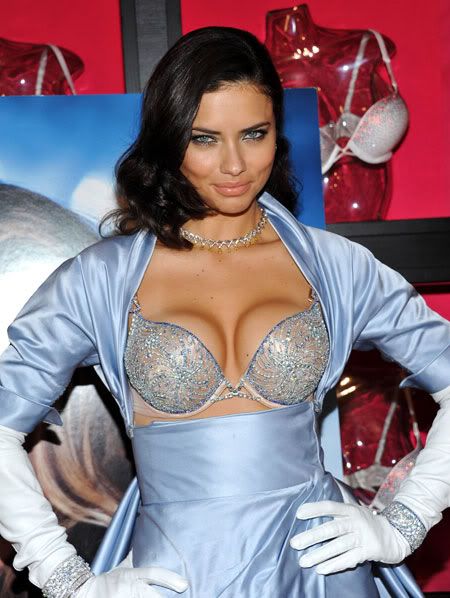 Oh good Lord: the best kept secret in luxury lingerie is out...but not all the way.
Victoria's Secret
has revealed, after three months of waiting - apparently - the
Fantasy Miracle Bra
, worn here by Brazilian model Adriana Lima (IMHO not the best of
her pictures
). The
brilliant
bra, valued at 2
MILLION
Dollars/Euros/whatever was created by designers Itelieni Damiani and includes the odd topaz and sapphire amongst 2,000 diamonds and 18 carat white gold.
Wouldn't you love to get your hands on them...I mean it. Apparently Adriana says she kicks her butt into high gear - making sure everything she does is healthy - to get into shape; her workouts are skipping and boxing, where she can use her bodyweight instead of machines. Pass the tissue. Click to enlarge...the image!
Update:
"Dyslexic man walks into a bra"...ROFL.
3rd in top 50 jokes
...P.S. not sure if that's his but Tommy Cooper (Comedy God) is credited with 13 of the top 50 best jokes.
P.P.S. jokes 6,7 and 8...I think I just wet myself (booze helps...and it's nearly 3 am.)