---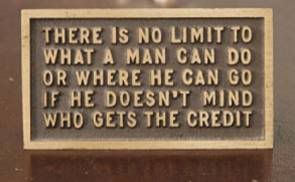 '
bis vincit qui se vincit in victoria'
;
He conquers twice who conquers himself in victory
(att.
Publilius Syrus
).
Ostrichism
is the refusal to face unpleasant facts, something that many politicians suffer from; one who certainly didn't suffer was the man who had the plaque - image left - on his desk; to me that saying transmits similar inspirational thoughts as the quote above. Click on image to go to the website of the
Ronald Reagan Presidential Foundation and Library
. And click
HERE
to read of the Reagan Centennial Celebrations and the unveiling of a bronze statue near the US Embassy in Grosvenor Square, London. The man inspired many but saved many more by facing head-on unpleasant facts.
"Freedom is never more than one generation away from extinction."
Update:
tributes and photos [
Conservative Home
]